Home
/
Disneyland Priority Pass
Disneyland Paris Priority Pass
A personal experience during our recent visit to Disneyland Paris
Disneyland Paris aims to provide a magical experience for every visitor. Recognising the importance of inclusivity, the company has a Priority Pass program specifically tailored to accommodate the needs of disabled individuals. On our recent visit, one of our party qualified for the Priority Pass and we want to share our experience of this with you, from the application through to using the pass during our trip.
Gold Crest Holidays is an appointed Key Partner of Disneyland Paris, we have almost 30 years of experience of working with them and we have a lot of expertise in arranging holidays for our customers to Disney.
There is a wealth of information regarding the Priority Pass on the Disneyland Paris website and you can find this information at this link: https://www.disneylandparis.com/en-gb/guest-services/accessibility-at-disneylandparis/*
How to apply for and collect a Disneyland Paris Priority Pass
You can request your card up to one month in advance of your arrival using the link on the page above. Alternatively you can do this upon arrival at Disneyland Paris. We completed the request online, in advance of our stay. In our case we needed to upload a copy of the "blue badge" along with a recent photograph of the person who the Priority Pass was for. You need to advise the dates of your visit (the pass is valid for seven days) and once completed you will receive a confirmation email. We printed a copy of this and took it with us to Disney.
Check which documents are required as proof of disability
There is a list of 12 valid documents you can use if you are from the U.K.
Disability Living Allowance
Attendance Allowance Award
Personal Independence Payment
Parking Card for Disabled People 
Armed Forces Compensation Scheme 
National Disability Card ID
Disabled ID
Access Card
Registration Card BD8
Certificate of Visual Impairment (CVI)
Disabled Student's Allowance
Scottish Child Disability Payment
The process of applying online for the Priority Pass was nice and straightforward and didn't take very long. We were able to take a photo of the person applying using our mobile phone and then uploaded it during the online application.
When we arrived at Disneyland Paris, we went to the reception at Disney Hotel Santa Fe (which is where we were staying) and immediately after checking in we went across to the concierge desk regarding our Priority Pass application. We handed the printed confirmation email across and they printed the Priority Pass immediately and told us not to lose it!
We were also handed two maps, one for Disneyland Park and the other for Walt Disney Studios Park, each with accessibility information. Finally we were given information on where the disabled viewing area was for the shows and parades.
We were advised that the pass could be used for rides, shows and parades and in restaurants and that for rides and shows, up to four persons could accompany the person with the Priority Pass and that for parades, two persons could accompany them. In all instances, the Priority Pass could only be used by the person whom it was for.
Our party member who had the pass had also chosen to wear a sunflower lanyard as this is an established sign that the person has hidden disabilities and does make the person feel more comfortable. We had purchased a clear plastic wallet to put the Priority Pass into which then clipped to the Sunflower Lanyard and could easily be accessed to show to the staff in the Disney Parks. (This was very helpful as the staff who check the Priority Pass are very thorough).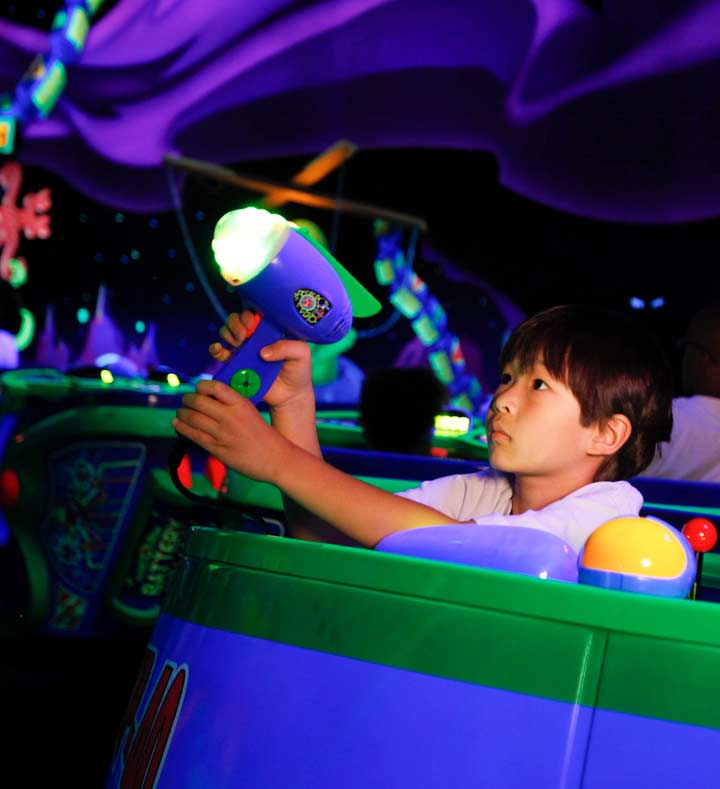 Heading into the Disney Parks
With our Disney Ears on our heads, Disney Parks tickets in hand and Priority Pass ready, we headed off to the Disney Parks to enjoy a day of Disney Magic! What we experienced was that Disneyland Paris has taken significant strides towards ensuring that everyone can enjoy the park's attractions, shows, and activities without any barriers or limitations and this is our experience…
It is worth noting that the member of our party with the Priority Pass does not use a wheelchair. Some of our experience of using the pass was different than would have been experienced by somebody with a pass who is using a wheelchair and we will explain that a bit more later.
First up, DIsneyland Park. There are many queue lanes to the turnstiles, all of which were very long. Thankfully there is a special lane reserved for disabled access. It was a lovely sunny morning and the special entrance was marked by a green parasol with the disabled symbol on it. A check of the Priority Pass by the Disneyland Paris Cast Member, asking how many persons, let us quickly through with almost no queue at the ticket scanner at the other end.
Our first ride of the day and use of the Priority Pass was Buzz Lightyear Laser Blast. This is a popular ride where you sit in a 2-person moving car (XP-41 Space Cruiser to infinity and beyond!) and using a handheld laser shooter to Join forces with Buzz Lightyear of Star Command, as you become an honorary Space Ranger and battle to save the toy universe from the threat of invasion by evil emperor Zurg!
Access is via the Disney Premier Access line for some rides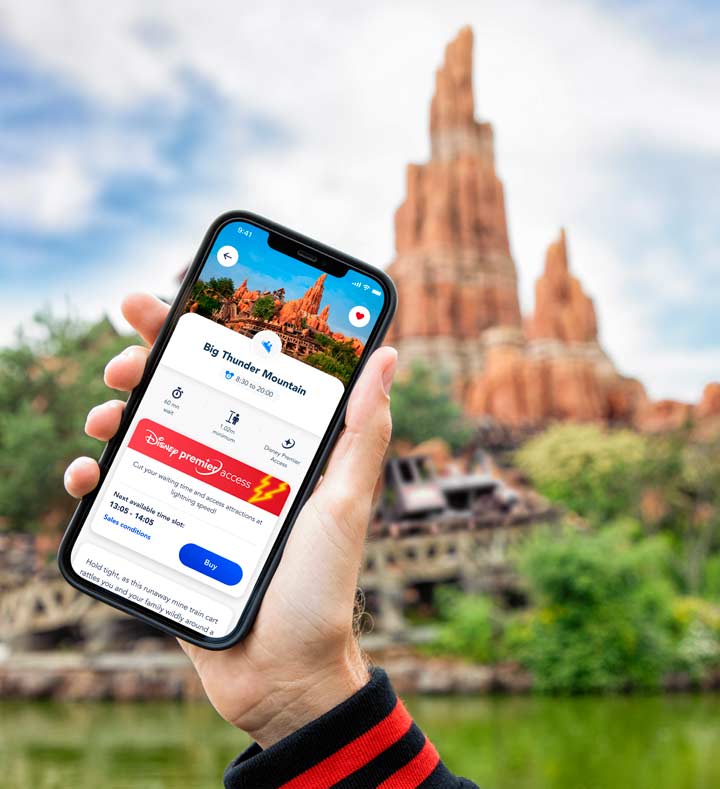 The queue time was showing as 45 minutes, which is a fairly typical queue time for this popular ride. We approached a staff member at the entrance to the ride (the staff are always easy to find at the entrance to every ride) and showed them the Priority Pass and asked them what to do. They said this provided us access via the Disney Premier Access line (which used to be called Fastpass). This bypassed all the outside queue and we joined the much shorter inside queue which moved fairly quickly. This was quite important as part of the fun of the ride is the inside walk through (if you can do this) as you pass by a large Buzz Lightyear robot. For those in a wheelchair, there is alternative access near to the exit of the ride, further to the left side of the Premier Access entrance. This is clearly marked by a wheelchair symbol. We have experienced this before and it bypasses all the queue, bringing you straight into the loading area for the ride. So our first use of the pass today was a success.
The pass is designed to assist visitors with disabilities, allowing them to access the park's offerings conveniently, comfortably, and with minimal wait times and at this point it was working well.
Next, while in Discoveryland, we went to Star Tours: The Adventures Continue, an exciting simulator ride. Once again, at the ride entrance we approached a Disneyland Paris Cast Member, who checked the Priority Pass, asked how many people and then let us access the Disney Premier Access line. You enter to the left of the main queue and once inside the ride building there is a set of stairs. For those using a wheelchair, there is also a lift at this point, behind the stairs and highlighted by means of a disabled sign. Once upstairs the walkway continues and ends up being next (but to the right) of the main queue. There was no queue at all in the Premier Access line and we were on to the very next Starspeeder to the moon of Endor!
We left Discoverland and headed back in the direction of the bottom of Main Street, U.S.A. and Sleeping Beauty Castle. It wasn't too long until the showing of the special 30th Anniversary Parade, Dream… and Shine Brighter. For this parade, the disabled viewing area was on the left hand side of Central Plaza, as you look from the bottom of Main Street towards the Castle. It was roped-off and a disabled wheelchair side was hanging off the rope. The disabled viewing area was relatively quiet, even though the Central Plaza was busy and it provided a great kerbside viewing opportunity without the hustle and bustle of being jostled. Of course, it could have been busier in this area, but it wasn't on this day. When entering the special viewing area, the Priority Pass was carefully examined once again, by a Disneyland Paris Cast Member to ensure the person whose pass it was, was actually the person using it (more on that later!) and that only two other persons could enter this area alongside them. Which in our case was fine, although we do appreciate that for a larger family this might be a problem.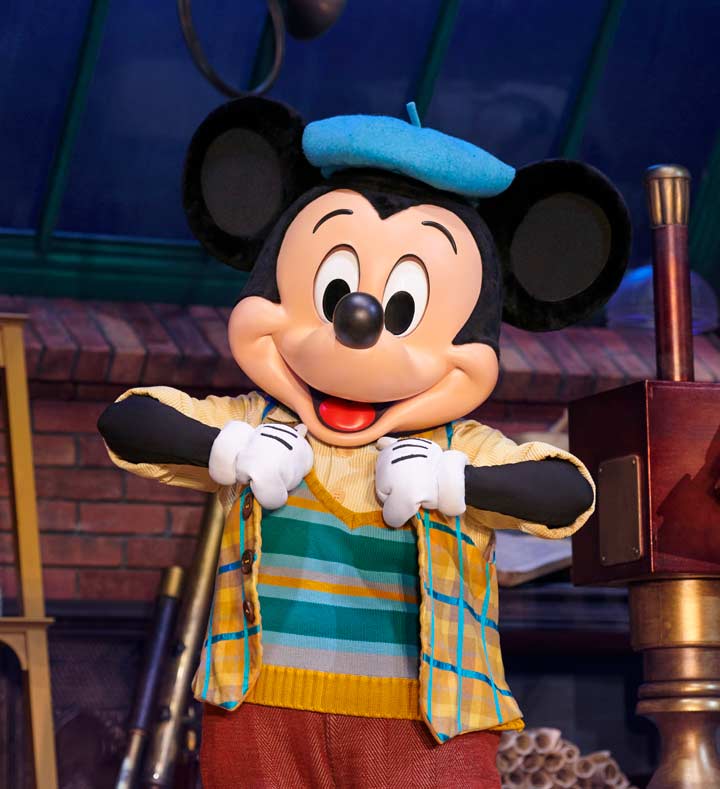 Meet Mickey Mouse with a Priority Pass
Next… Fantasyland! We had a similar experience with Peter Pan's Flight, entering via the Disney Premier Access Line, shortening the queue time for 45 minutes to less than 5. Time to try something different and a character encounter with Meet Mickey Mouse. This is a fantastic purpose built Show building which does exactly as it says on the tin… you meet Mickey! Described by Disneyland Paris, Head backstage to meet magician Mickey in between shows, snap a photo and discover some truly magical Disney tricks and secrets.
The queue time for this can often be 60-90 minutes, in our case this would not have been manageable and thankfully the Priority Pass assists here. To the right hand side of the entrance there is a side door, with a buzzer. This is marked by a disabled sign and we buzzed and waited a few minutes. The door was opened from the inside and a friendly Cast Member welcomed us, checked the Priority Pass and showed us inside, where we were able to wait in a short queue which merged with the front of the main queue. After about ten minutes of waiting and sitting on the floor, we were called for our turn. Taken down a corridor we stood outside Mickey Mouse's dressing room. The cast member knocked on the door and then let us inside. We joined a short queue, behind some of the furniture in the dressing room and you immediately realised that the people at the front are meeting Mickey, but you don't see that until your turn is next.
Once it was our turn, unfortunately it was a little too much for the person with us who had the Priority Pass, who could not manage standing so close to Mickey. Afterwards it turned out that the touch from Mickey was uncomfortable for the particular condition. We do feel that if we had realised and mentioned this, the experience would have been adapted as Mickey Mouse and the Disneyland Paris cast members were all fantastic and tried to make the meeting as good as possible. Many people who qualify for the Priority Pass will only be able to manage shorter days, will struggle to queue and find some of the rides and attractions impossible.
By this point, everything was becoming a bit overwhelming and tiring and we realised the huge benefit of the Priority Pass, in being able to access what would otherwise be impossible. Time for a break, sit down and recharge somewhere a bit quieter.
Reduced wait times
As you will realise from the above the Priority Pass offers several key benefits to disabled individuals and their companions. The most clear benefit from the experience to this point is the Reduced Wait Times. One of the most significant advantages of the Priority Pass is expedited access to attractions and rides. Disabled guests and their companions can bypass the regular queues, ensuring that they spend less time waiting and more time enjoying the park's magical experiences.
Once we had taken a break we felt able to do a little bit more that day, before we needed to go back to the Disney hotel for a longer rest. Time for Pirates of the Caribbean. The entrance for Priority Pass guests and their companions is via the exit. This goes against those exiting but we found that by keeping to the right hand side this was not a problem, although this does go quite dark, quite quickly inside, so take your time. There are reassuring disabled signs along the way, pointing you in the right direction and you soon end up behind a barrier close to where those who are exiting the boats. Quite soon a Cast Member approached, checked the pass and we were quickly boarding a boat. Keep your eyes peeled on the way round for Captain Jack Sparrow, he's not easy to spot, until the end!
After a longer break, in the evening we went into Walt Disney Studios Park. In a similar way to the entrance for the Disneyland Park, there is also a reserved entry lane for disabled guests entering Walt Disney Studios Park. Manned as always by a Cast Member, the pass was checked and we were let through and entry was quick. Time to ride Ratatouille - The Adventure… The Ratatouille Ride entrance was via the Disney Premier Access Line, as was The Twilight Zone: Tower of Terror, both phenomenally fun rides and great fun before we headed back across to Disneyland Park for the potential highlight of the day and definitely the finale, Disney Dreams.
Fantasyland closes earlier than the other lands in Disneyland Park, to get guests in front of the Castle for Disney Dreams and of course the drones from Disney D-Light operate from behind the Castle. From the left hand side of Central Plaza (when looking at the Castle) we went towards the left between the Castle and entering Adventureland. The pathway was blocked part way by ropes and Cast Members. A little unsure of whether we were quite right we asked and it turned out we were in the right place and were let through. It seemed this was the priority pass access and separate access too for others into an adjacent cordoned off area, perhaps for Annual Passholders. We reached the front of the Castle, to the left and the spot for Priority Pass holders. It offered an unobstructed view in parts and was a fairly large area. Some were closer to the direct front of the Castle, but this was busier and didn't suit the needs of our person. However it was a great view and allowed the person to sit down with nobody in front of them - by now far too tired to stand. Without access to this area, it would have been impossible for the person to see and enjoy this show - well done Disney!
Accessible entrances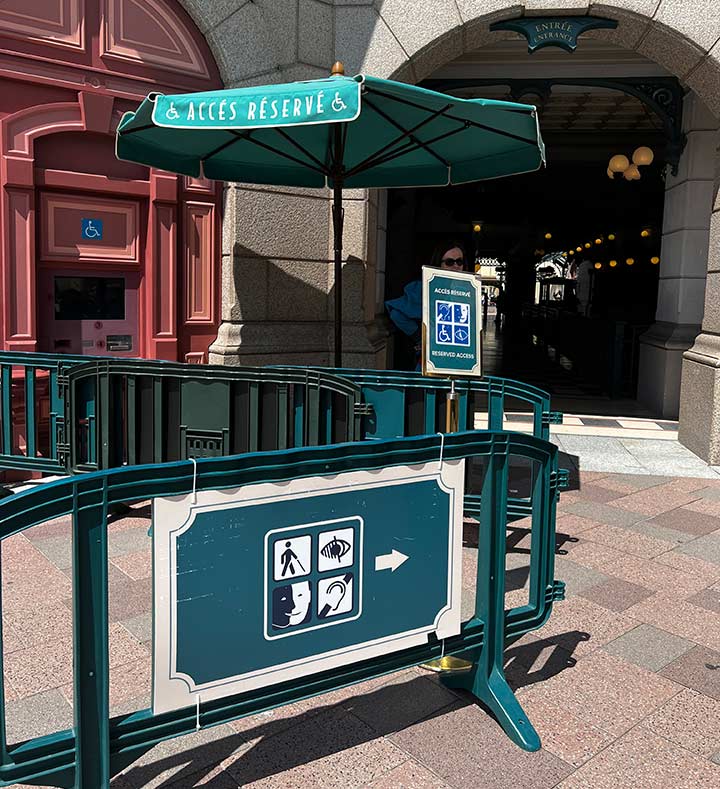 While our needs were not able to assess wheelchair access for many rides, it is clear that Disneyland Paris has worked hard to create accessible entrances. Disneyland Paris has made substantial efforts to make its attractions and facilities accessible to everyone. With the Priority Pass, disabled visitors can access specially designated entrances, avoiding steps, narrow passages, and other potential obstacles.
From our experience it is also clear that Disneyland Paris assigns trained and friendly Cast Members to assist Priority Pass holders throughout their visit. These knowledgeable staff members are readily available to provide guidance, answer questions, and ensure a seamless experience for disabled guests.
Our experience on the second day was very similar. We did begin the day with a Character Breakfast. A Cast Member called us forward from the entrance area where bookings and vouchers are checked and we were taken slightly to the right. There is a disabled logo here and it speeds you forward from the queue, again a very helpful adaptation by Disney.
We mentioned earlier that the person with the Priority Pass must go on the ride. In other words, other members of the travelling party cannot use the Priority Pass without the person who has the Priority Pass. We also made clear that Disneyland Paris Cast Members were scrutinising the Priority Pass at the entrance to each ride.
At one point, we used the pass to access Crush's Coaster, a hugely popular ride in Walt Disney Studios Park which often has a very long queue time. There is a dedicated line for disability access, to the left of the regular ride entrance and to the side of the area where you view the ride as it comes outdoors. We waited at this barrier and within a few minutes a Cast Member checked the Priority Pass and took us and a couple of other small guest groups who were also waiting, one was in front of us and the other behind. We went through a backstage door, down some steps and underneath the ride, back up some steps and arrived in the loading area for the ride!
At this point, we were second in the Priority Pass queue, behind some other guests using a Priority Pass. Their pass was checked as it was pointed out to them they could not use the pass without the person on the pass being present. While they tried to protest, a supervisor was called and told them no, they absolutely could not ride without the person also riding, as the pass is for that person plus companions. So please, if you or a member of your party has a Priority Pass, remember it can only be used by the person who the pass is for, plus their companions. They must ride!
Hopefully our experience of using the Priority Pass has helped reassure you that Disney takes the inclusion of those with disabilities incredibly seriously. They do also offer an Access Pass for those with temporary conditions, rather than permanent disabilities. We have not reviewed that here, but may try to do so in future.
Gold Crest Holidays has always been as inclusive as possible and we support our customers as much as we can to help them have magical holiday experiences. Having first-hand experience, we appreciate how important this is. At this time we don't have coaches with wheelchair fixings and we do require customers to be mobile such that they can safely board and depart our coaches and we will happily discuss any specific needs and requirements to do our best to assist you.
In conclusion, the Priority Pass program at Disneyland Paris marks a significant step forward in the theme park's efforts to provide accessible experiences for disabled visitors. By offering reduced wait times, accessible entrances, and really helpful assistance, Disneyland Paris demonstrates its commitment to inclusivity and ensuring that every guest can enjoy the park to the fullest.
If you have any questions or comments, please contact us directly or via your travel agent.
*Please note that we are unable to offer carer's discount tickets as a Leisure Groups partner with Disneyland Paris. Although we have requested this from them, it is not something they have been able to provide to us. Please note that our visit took place in May 2023 and our report is based upon our experience at that time. Disneyland Paris may amend the Priority Pass programme without notice.